Quality Homes of Madison —
residential home construction
Quality Homes of Madison Inc., located in Jefferson County Indiana, is a builder featuring system-built homes by Heckaman Homes and Unibilt. We offer a wide variety of houses to meet any taste and budget. Quality Homes can provide a home that's ready to move into or can assist with your building project. Residential contracting is our specialty and we have been responsible for the construction of over 600 homes in Indiana and Kentucky since 1990.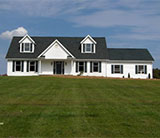 Quality Homes of Madison has a solid reputation as a first-rate home builder, providing excellent service before, during and after construction.
Please take a moment and browse our website where you'll find photos of recent home constructions, information about our homes and a great selection of floor plans.
Visit us at 3136 Clifty Drive in Madison, Indiana, and view our Cape Cod model home. We'd love to show you all the possibilities of quality affordable home ownership!

Hours

Please call for appointment (M-F 9-5, Sat 9-3)
or email us at qualityhomes@seidata.com
Phone: (812) 265-6046
Quality Homes of Madison offers single family houses, office space designs, or multiple family layouts. Customize our great floor plans and make them your own!