OUR homes
What is SPECIAL ABOUT OUR HOUSES?
Quality Homes of Madison offers conventionally-built custom structures from Heckaman Homes and Unibilt. These factory-framed houses are built with quality and precision in environmentally-controlled industrial settings, yet built to meet all state building codes.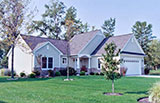 These homes, unlike structures which are built on-site, are built to withstand the stress of cross-country transportation to your building site. The result is a stronger, heavier home -- typically, it weighs 30% more than a site-built house.
Unlike the site-built construction process, where building materials can absorb a lot of moisture and are exposed to varied weather conditions, the lumber and materials in our homes have never been wet -- thanks to a controlled-environment manufacturing facility. Think of how many problems you would have with your automobile, if it had been built outside in the dirt, wind and rain.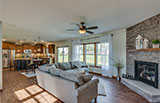 Buildings from Quality Homes of Madison should not be confused with a manufactured double-wide or sectional home. Double-wides are built on a steel frame with an axle and hitch. Our homes are built with a conventional wood subfloor of 2 x 10 southern pine floor joists on 16-inch on centers. These houses are transported to the building site by lowboy trucks. On the building site, your new home is lifted onto your foundation or basement by a crane.
The single-family home, multi-family structure, or office building is mortgaged conventionally and is appraised like a site-built house.